Hey hey everyone, Welcome back to my blog post. Today I am excited to share Taylored Expressions new Handcrafted Calendar Kit.
Calendars are one of my favourite crafts to make, and one of my favourite gifts to give or receive. This year, Taylored Expressions is offering this exclusive Handcrafted Calendar Kit to help you get ready for 2021! It includes everything you need to make a customised 5″ x 8″ calendar designed to hang from a magnetic walnut wood hanger. It comes packaged in a plastic clamshell box with an exclusive kit sticker (perfect for gift-giving!), and includes:
Walnut Wood Hanger Frame (includes 12″ length of leather cord)
5×8 2021 Dated Grid Calendar (12 individual 5″ x 8″ sheets printed on 100 lb. Sugar Cube cardstock)
Stencil Strips – Calendar (set of 12, numbered to correspond with the months of the year)
Group Text – Months stamp
Group Text Die
Clearly Crafty It's a Date stamp set
Some of the items are available to purchase separately. The items that are available to purchase separately for this kit release are: 5×8 2021 Dated Grid Calendar, the Walnut Wood Hanger Frame, 5×8 Clear Calendar Boxes, and the Stamp & Style Pouch.
I have made six of the twelve calendar months to share with you. I will share the next six months in the coming days.
January 2021
February 2021
March 2021
April 2021
May 2021
June 2021
I have used TE's Calendar Critters stamp set and coordinating dies here along with the handcrafted Calendar Kit. I stamped the critters using Oreo hybrid ink and coloured using copic markers. Die cut them using the coordinating dies before adhering them using foam adhesives.
For the background on the calendar, I used half inch purple tape to mask the middle of the top panels before sponging the panels with TE dye inks. I will list all the TE dye inks I used in the supply list below. Then I placed the stencils and sponged the same inks a bit heavier to get tone on tone effect.I also repeated the sponging without and with the stencil on the bottom of the panels.
I simply stamped the Group Text Months Stamp in Oreo on Sugar Cube cardstock and die cut using Group Text die. I adhered the calendar critters image on the middle of the masked strip using foam adhesives and the name of the month below the critter image using foam adhesives again.
Supplies: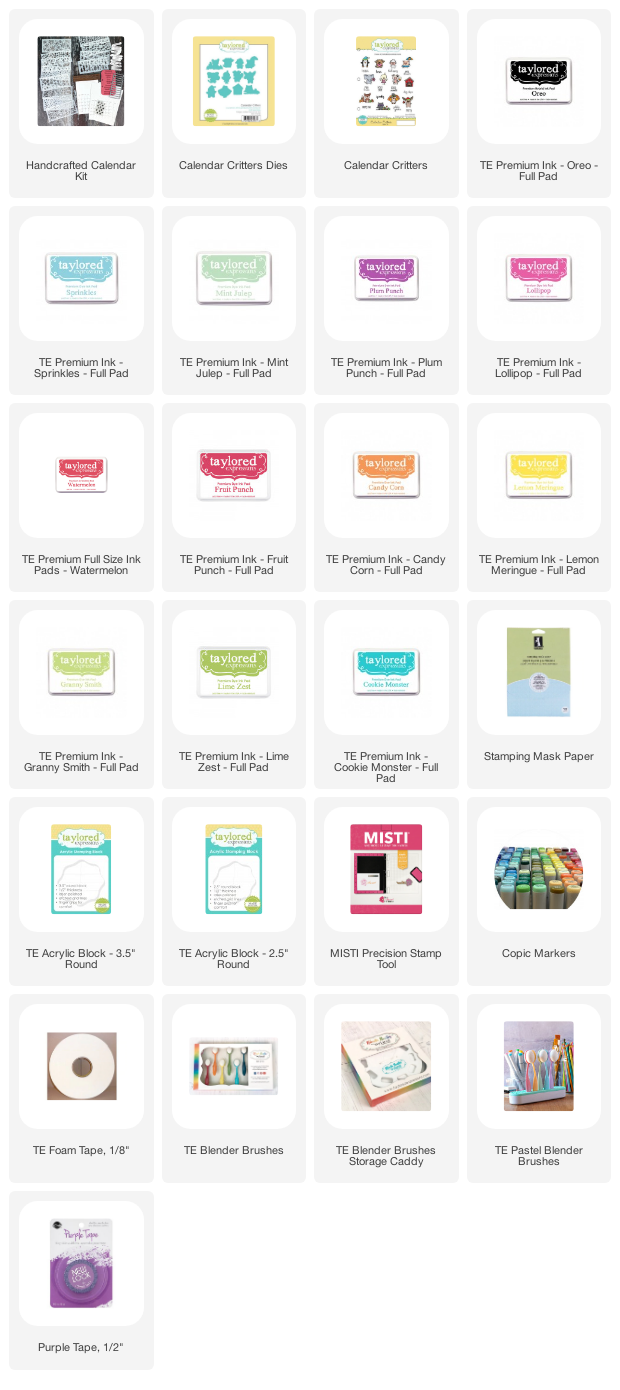 Check out Taylored Expressions Blog for more information as well as many fantastic inspiration from talented designers. The handcrafted Calendar kit is now available for purchase at Taylored Expressions Store.