Hey everyone! Hope you are all safe, sound and sane! Where I am (Perth, Australia), we are in stage 3 shutdown. No gathering of more than 2, can go out only for essentials, medical appointments and exercise. Everything is closed except supermarkets, pharmacy, GP surgeries and Hospitals. Staying at home is nothing new to me but I still had the freedom to go out. Now that that freedom is not there anymore, I feel restricted. Having said that, what I and we as a whole are doing is for the greater good. We need to stop the spread of the infection and flatten the curve. So thankful of all the essential workers from health care workers (includes my husband) to stackers at supermarkets who are working tirelessly to keep us going. Life has changed so much and will change forever. But we will get through this. Keep positive. Ok Enough of my rant!
I have an Easter card to share using Taylored Expressions new release stamp sets and dies. I used the new Hop It background stamp and Hop It die along with Mini Strip Easter stamp set and Rectangle masking stencil to make this card.
I stamped the Hop it background stamp in black ink, stamped the accessories in different coloured TE dye inks and die cut out a few using the Hop it die. For the background, I used the two Rectangle Masking stencil and sponged TE dye inks using the blender brushes. I used the largest stencil in the set first and sponged TE sprinkles and Granny Smith inks lightly, then placed the second rectangle stencil over the top and sponged the same inks but a bit heavier to get depth.
I adhered the Hop It die cut using foam adhesive as shown in the picture. Sentiment is from Mini Strips Easter stamped in Oreo on Sugar Cube cardstock and die cut using Mini Strips die. I adhered them using foam adhesive and a few of Bit and Pieces Drip Drops to finish off the card.
Supplies: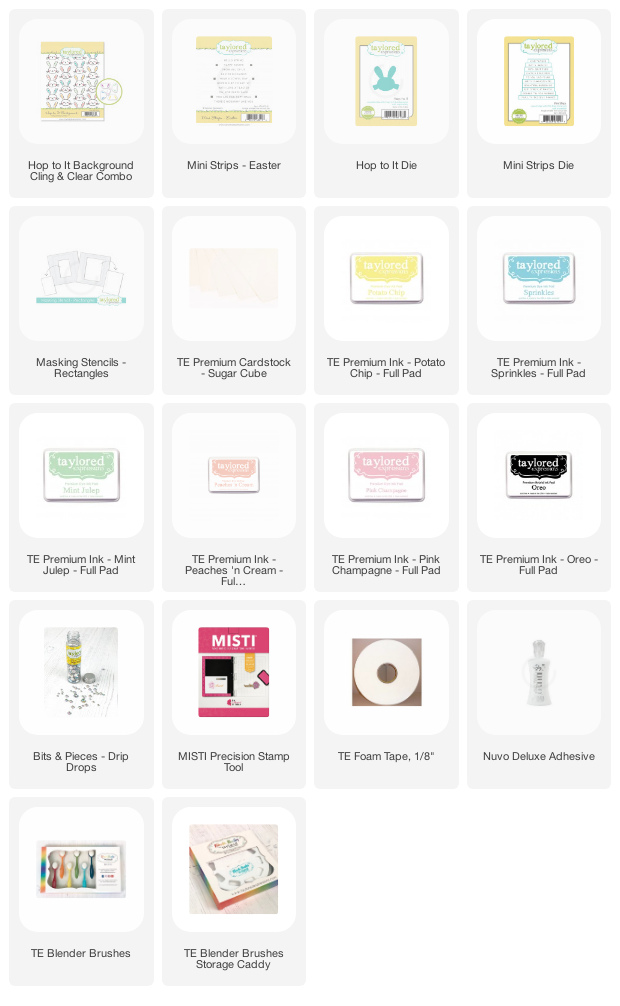 Thank you for taking the time to visit my blog today. I intend to keep going on sharing my cards just to keep thing normal. Hope you don't mind. Take care and stay at home to contain the infection. Until next time…..