Many of us have at least one cutting plate or cover plate however you call it. Today I have couple of cards to share in which I have showed two ways to use the same cutting plate or cover plate. One of the way is the traditional die cutting the die but yet adding a little pizazz and the other way is new to me. So I am excited to share.
Hello and welcome to my blog. Hope you all had a great and productive weekend. This month is busy for me with exams for children. My son will finish his first year medical school. Daughter finished year 11 and onto year 12 already. Next year is a big year for her and me as well. lol! I cannot wait for December holidays so everyone can relax. Anyway, without further delay here is my first card using Taylored Expressions Merry Christmas Cutting Plate.
I went for the tone on tone look with a bit of depth of colour. I trimmed three TE Watermelon cardstock. On one of the panel, I sponged Aged Mahogany and Black Soot on the edges fading towards inside. This gives the panel depth and dimension instead of a flat solid colour. Then I die cut all three panels using the Merry Christmas cutting plate. I stacked glued them with the sponged die cut on top.
This dimensional die cut panel is adhered on TE watermelon card base. Before I adhered it, I sponged the card front with Aged Mahogany and Black Soot on the edges as well. To add details to the dimensional die cut on the card front, I brush the sentiment with clear shimmer and gold stickles and white Nuvo crystal drops. I kept it simple just focussing on depth of colour and dimensional cutting plate. This card looks spectacular at night under the light with all the shimmer. Here are some closeups.
For the second card, I used the same cutting plate to foil press on cardstock using GoPress and Foil machine. I recently bought this machine from my local craft store Spotlight on sale. This machine helps foil press your dies on cardstock. I saw this technique used a lot now a days in the craft world. I really really loved it and another way to get good use out of cutting plates. So here is my second card using the same Merry Christmas cutting plate foil pressed on cardstock.
Using the GoPress and Foil machine, I gold pressed the Merry Christmas cutting plate on Sugar Cube cardstock panel. Then I trimmed the panel to 4″x5.25″. I felt the edges of the panel a little too white and plain. So I added versamark to the edges and gold embossed them. The gold embossing ties in with the gold foil pressed into the card panel. I adhered this panel to Watermelon card base using craft foam for dimension. Then embellished with Nuvo white crystal drops and Postbox Red Vintage Drops. Simple and yet the gold foil pressed into cardstock makes an impact. Here are some closeups of the card.
Both the cards can be mass produced. That is what I am going to do. I need another 20 cards in a day. So I have an assembly line to set up after I prepare the panels, die cuts and card bases. All the supplies used to make these cards are listed below.
Supplies: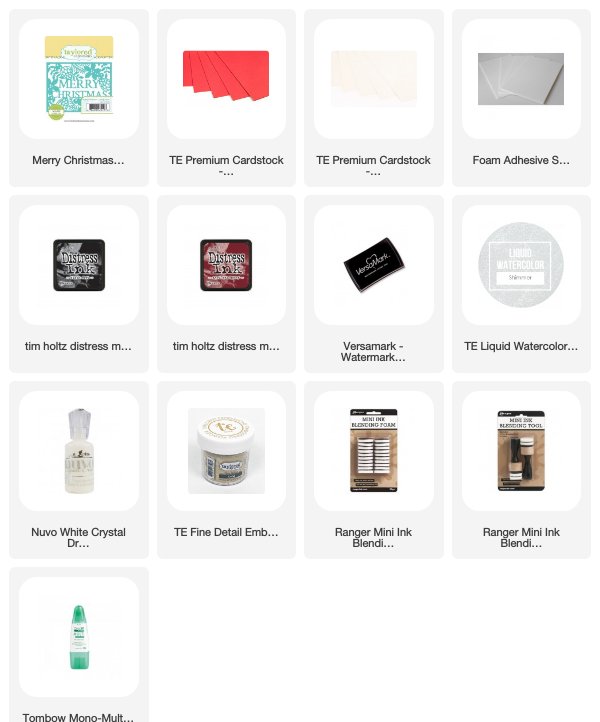 Thank you very much for taking the time to visit my blog today.