Hey everyone, Hope you are enjoying your weekend. I amfrustrated today with my internet because of frequent drop offs. As I was editing my photos online, I had four drop off, then an hour over the phone with the provider and still no steady connection. I restart the router a number of times and get a connection to upload my photos to flickr gallery. Then after another struggle, I am once again connected to write up  the post. Anyway, Hoping by the time I finish my post, I will still have the connection to schedule the post.
Today's share is another card for Altenew Academy's Watercolor Basics and Beyond class. This one is for lesson #4 colouring within a template.
I embossed the You are Loved die on watercolour cardstock instead of die cutting and then coloured the embossed sentiment using Altenew's Watercolour Pan set. I used Cotton Candy, Coral Berry and Rubellite colours to create an ombre. Once dry, I spattered the panel with Jet Black watercolor. I then trimmed the panel to 5.25″x 4″.
I used the Fantasy Floral die set to die cut using watercolour cardstock and colour the die cut using watercolor pan set. For the leaves, I used Bamboo and Forest Glades colours. For the three floral layers, I used a mixture of Sun Kissed, Orange Cream, Cotton Candy and Coral Berry. Once dry, I stacked and glued the floral layers. Then adhered the flower cluster below the painted embossed sentiment.
I still felt the card needed gold accents. I spattered some Antique Gold spray all over the panel. Then I also brushed some of the antique gold spray on the top layer of the flower and leaves. Light catches the metallic gold to give that subtle shine.
To assemble the card, I glued strips gold glitter cardstock on either side of the card front and adhered the panel to the centre using foam adhesive for dimension. Finally some Simon's Groovy Confetti scattered around to finish the card.
Supplies: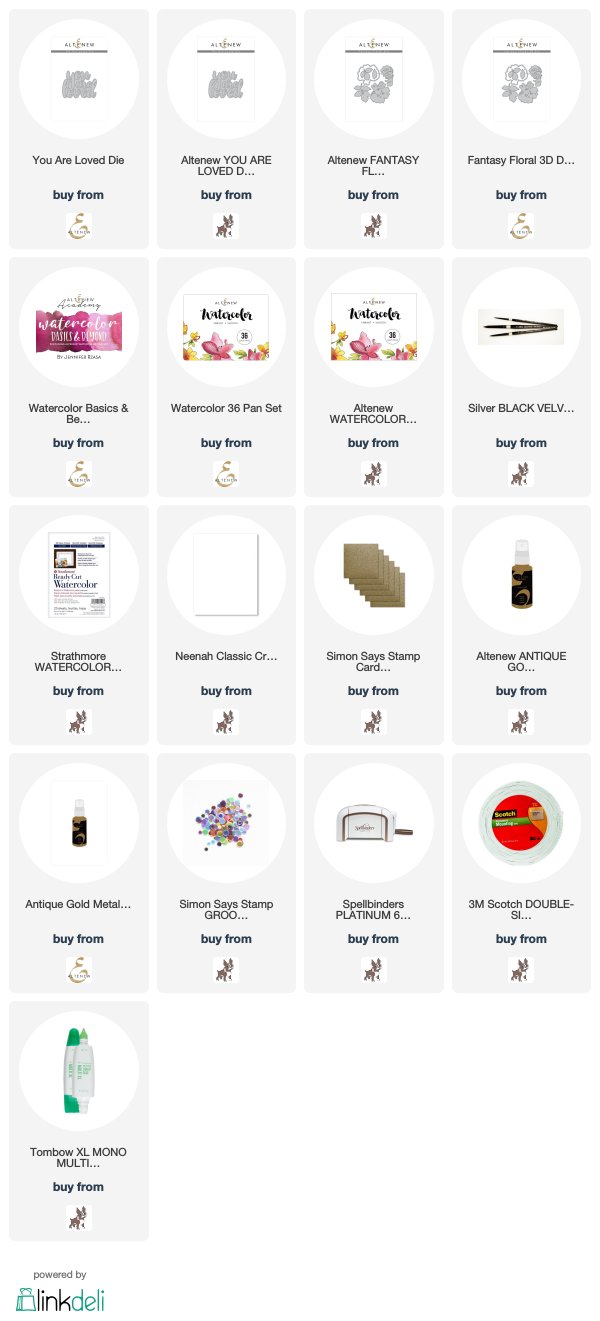 Phew! I made without a drop in the internet connection. Hope you enjoyed my project today.
Have a lovey weekend!