Hello Y'all! If you are following me on Instagram, I shared a photo of Simon Says Stamp's Flora watercolour print which I coloured using the Daniel Smith sample dots on the print. Here is the full panel coloured.
I made it into a card!
Honestly, I paced back and forth so many times before I cut into the panel. I didn't want to cut the panel at all. First I thought I will used the whole panel to make a large card. But I do not have an envelope for it. So after a few paces, I gathered the courage to trim the panel to 4″ x 5.50″. Actually I did not loose much of the design. Great! Now to make it into a card, I decided to choose a darker gray card base. This is Simon's Slate Gray cardstock. I adhered the panel on the card base leaving two strips of the gray showing on either side of the panel. The gray is dark enough to pick up the black outline of the design as well as the light gray watercolour on the design, tying them all together.
Since the design is the highlight of the card, I kept the sentiment simple. This is Thanks die from Simon Says Stamp as well. The die has both the word as well as the shadow to it. I used the same Slate Gray cardstock for the shadow and silver matt glitter cardstock for the word. The silver glitter paper being matt is not very glittery and it picks up the gray from the shadow and projects it. Hence giving the gray undertone to it. Just to add interest I bunched up some white thread behind the sentiment and embellished with sequins.
Here are some closeups of the card.
These watercolour panels are awesome. Great for travel because they are not heavy unlike books and they have the waterolour samples on top of the panels. All you need is brush. I wish I had bought all of them because I am travelling next week and would like to take a few of them to colour. I think I will make a few using the background stamps and take my Daniel Smith watercolour sample dots sheet with me. All supplies used to make this card are listed below.
Supplies: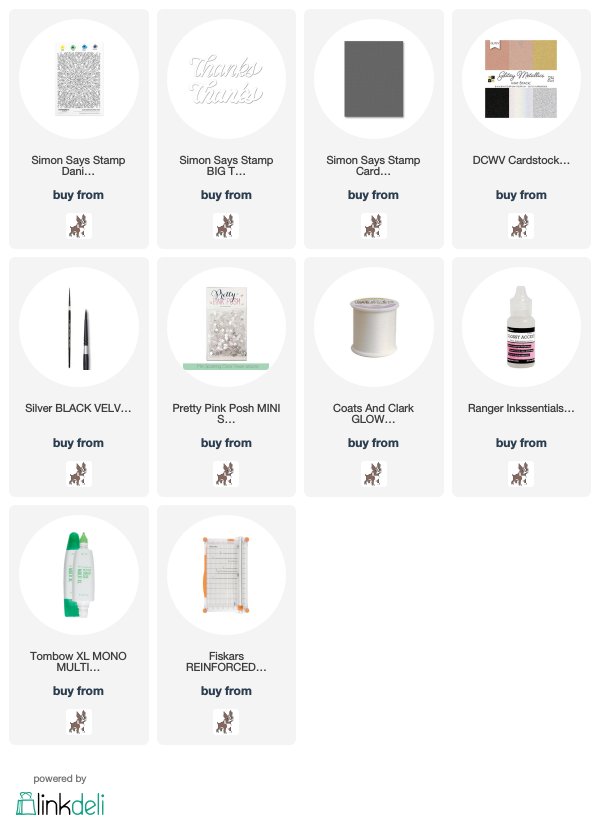 These are affiliate links which gives me a small commission at no extra cost to you.
Thanks for stopping by today. Have a lovely Wednesday!