Hey hey everyone, Hope you are well and having a great day! I am so excited to be participating in CASE me a Christmas Card with my fellow crafter friend Michelle Lupton from Handmade by Michelle. This is a series Michelle does on her blog. She has chosen thirty eight talented crafters to CASE a Christmas card each. And in return each of the talented crafter choose one of Michelle's card to CASE a Christmas card too. What a great idea? I am loving the different result from CASEing each other's card.
So here is a little story. When Michelle invited to participate, I was like YES! Love to CASE one of yours and it has been a long time since I CASEd anyone's card. This is going to be fun right? And I went about finding one of Michelle's gorgeous card and CASEd it. Hey I did it and I am ready. And when I went to write up this blog post, I realised, I did not make a Christmas card instead made a Diwali card! What a boo boo! Seriously! What did I do? I could not believe what I had done until the last minute. Well, this is happening to me recently. I am not paying attention to details. I am blaming it on my weight loss and fitness journey. A bit of brain fog. Haha! Anyway, I whipped out a Christmas card in less than twenty minutes and here I am with my post. Hope you like it. I will share my Diwali card tomorrow.
This is my inspirational card from Michelle's collection of gorgeous cards on her blog.
And here is my take on her card.
I love the layout of her card with the stenciled panel in the middle the card front with a contrasting big sentiment die cut with a smaller strip sentiment under and sequins.
I have all those elements on my CASEd card. Stenciled front panel using Simon's Holiday Foliage stencil. I also did some spatters using the red and green distress inks as well as gold spray for festivity. The large sentiment is Merry Christmas die from Simon also die cut using black glitter cardstock and the smaller sentiment from Sentiment Strips Christmas also from Simon. Finally a few gold sequins to add to the festive feel to finish off the card. Hope you like my take on Michelle's card.
Head over to Michelle's blog to see her take on one of my card. I myself do not know which of my card she CASEd. It is going to be a surprise to me and fun. I cannot wait to see.
All supplies I used to make this card are listed below. Thank you for taking the time to visit my blog today.
Supplies: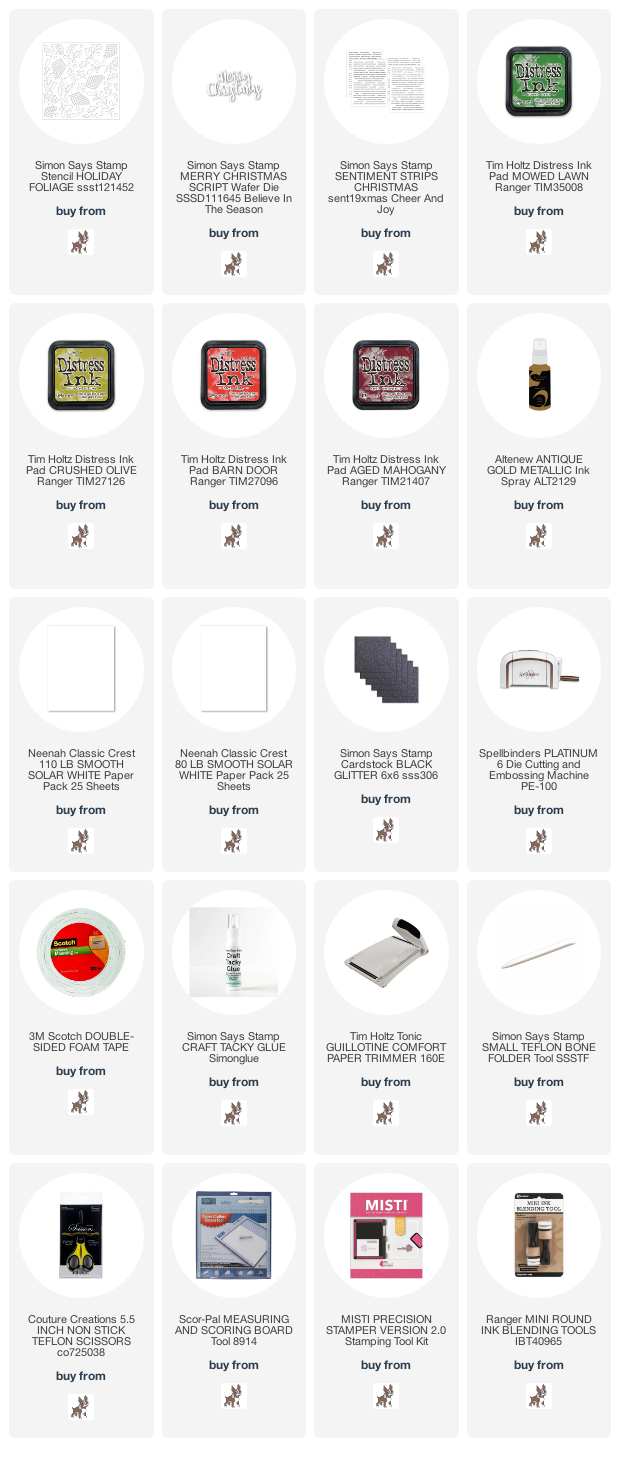 Have a wonderful day. Until next time…….take care!