Hey hey everyone! Hope you are well and safe. Taylored Expressions is turning 12! Happy Birthday to Taylored Expressions and the team. I am so excited to be part of the team. I still remember the first impression plate I bought from Taylored Expressions during their first year. I still have it. I am also very privileged to part of the team for over five years now. I joined the team in April 2015. To continue for more than five years means that I absolutely adore TE designs and team members. But most of all Taylor who has been kind, approachable, organised and patient with me throughout these years. It's a pleasure to work with TE and Taylor. Thank you for having me in your team Taylor and wishing TE many many more birthdays and much more success in future.
As part of the birthday celebrations, Taylored Expressions are having a birthday release today. You would have seen some sneak peeks on Taylored Expressions Blog yesterday. Today all the products are released and available for purchase at TE store.
I have a few projects to share with you using the new birthday release products. This post is going to be photo heavy with my projects, so please grab yourself a drink and enjoy.
For the first projects, I used the new Life of the Party stamp set and coordinating die to make a trifold mini slim card.
I made a trifold mini slimline card using Sugar Cube card base. Then using the Mini Slimline Trifold template and die, I created two windows on the centre of both folds of the card.
Then I stamped the images from Life of the Party stamp set and coloured them using copic markers. Using the coordinating dies, I die cut them all out.
I also stamped the sentiments from the stamp set using Oreo hybrid ink and trimmed them.
Since the animals on the stamp set are all wild animals from Africa, I decided to ink blend the trifold mini slim card in African Sunset colours. I used all TE dye inks to ink blend using Te blender brushes. Takes times but once the inks are dry, they even out and blend like butter. Then I used TE Here Comes the Sun stencil to sponge Sugar Cube pigment inks to add sun rays into the background.
I then adhered and glued the coloured die cut images around the window and randomly around the first the second folds of the card. On the inside of the card, I added the lion image with the sentiment below the image. I also adhered more sentiments on the first and second folds of the card as well.
To complete the card, I stamped some confetti images as well as added some white rhinestones from TE to add sparkle to the wild birthday card. I love love the intense sunset colours on this card. It's bright, bold and yet fun. Hope you like it.
Supplies: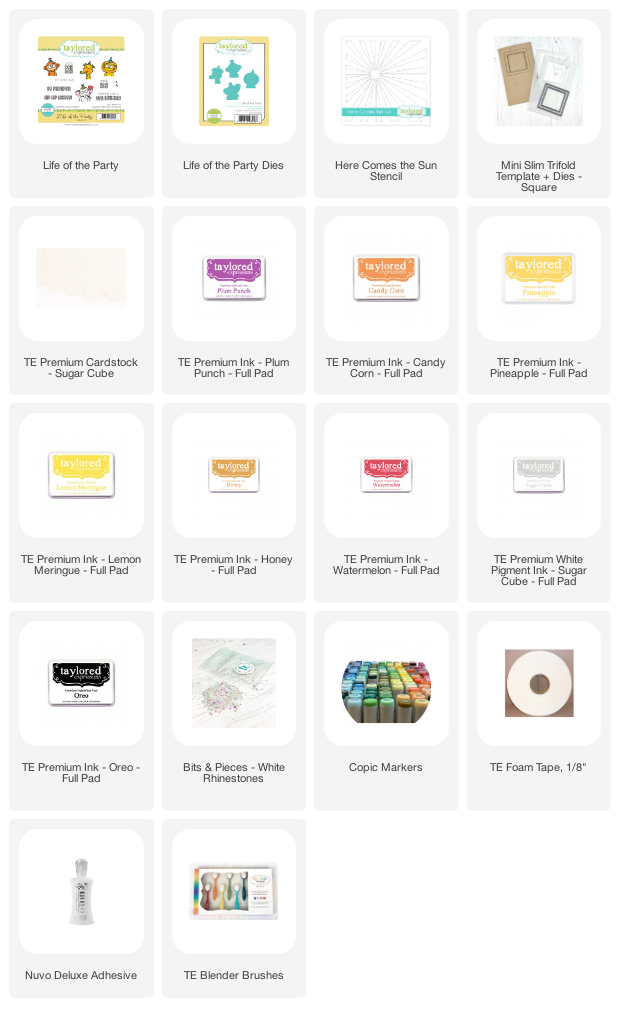 For my second card, I used the new On the Block Happy stamp along with On the Block Happy Shadow Die and Bokeh layering stencil. This Bokeh layering stencil is a must having in your collection. Such a versatile stencil.
I used the new Bokeh layering stencil on the background and sponged TE dye inks in Strawberry Milkshake, Candy Corn and Lemon Meringue colours. I also added Nuvo Moonshine glimmer paste on top of the Candy Corn layer. So beautiful. I love to try out different colour combinations.
Then I white heat embossed the On the Block Happy stamp on Oreo cardstock and die cut using On the Block Happy Shadow die. I also die cut three more die cut using Oreo cardstock and adhered behind the sentiment die cut just offset to add shadow to the sentiment. I adhered the sentiment on the card front panel. The secondary sentiments are from Building Blocks Happy Addition stamp set simply stamped on Lemon Meringue cardstock and die cut using Building Blocks die and adhered using foam adhesives.
A few clear drip drops scattered around to finish off the card. That background is simply wow! Easy yet makes a huge impact.
Supplies: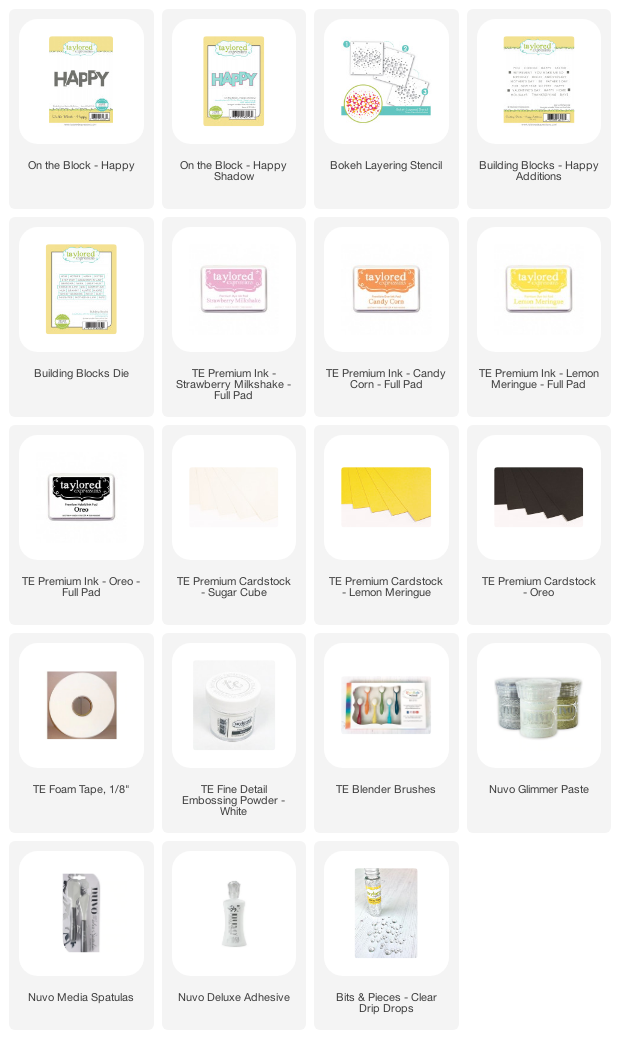 No birthday celebrations are complete without balloons. My next projects uses the new Balloon Bouquet Cling and Clear combo, Balloon Bouquet Additions and Balloon Bouquet Additions die to make these cards.
Card #1
Card #2
I used the Balloon Bouquet cling stamp to stamp the bunch of balloons on the card front, then used the filler balloon images from the Balloon Bouquet and Balloon Bouquet Additions stamp set to fill the balloons in different TE dye ink colours. Misti helps to get good even coverage. TE dye ink stamp blotchy but dries with even coverage. Perfect. On the background, I added the stars and confetti using same colours of dye inks as well as neutral subtle Sea Salt colour as well.
I layered this panel with gold foil petite scallop panel before adhering on Sea Salt card base. The sentiment from Balloon Bouquet is stamped using Oreo hybrid ink, die cut using the coordinating die and adhered. A few white rhinestones scattered around to finish off the cards.
Supplies: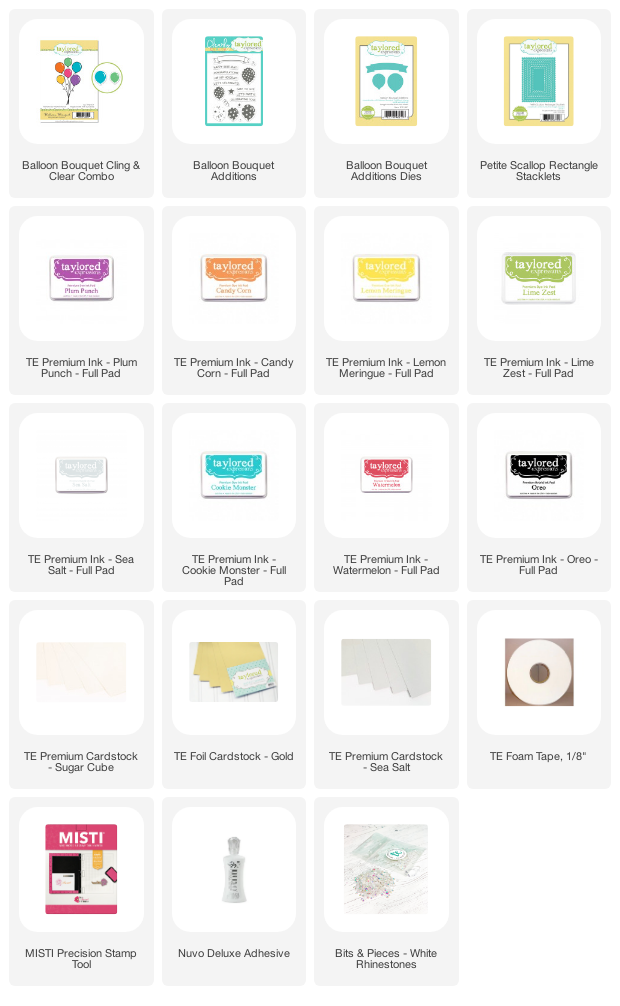 My final project involves some super cute images. I love Max and Mille stamp set series. This new Millie's Birthday Bash is a super cute stamp set. I used this set with the new All Tucked In Birthday stamp set to make this card.
I stamped all the images from Millie's Birthday Bash stamp set using Oreo hybrid ink and coloured them using copic markers. Then using the coordinating dies, I die cut them all out.
On the card front panel, I sponged three areas using Pink Champagne TE dye inks. Adhered three of the images on top of these areas using foam adhesives, Stamped some confetti in the same colour over the sponged area around the images.
Then using the sentiments from All Tucked In Birthday, I stamped all over the panel in different directions. I also used some images from this stamp set to randomly stamp around the sentiments and stamped images.
A few white rhinestones to finish off the card. The panel is adhered on white card base. I love love to do this whimsical layout. Reminds me more of my scrapbooking days.
Supplies: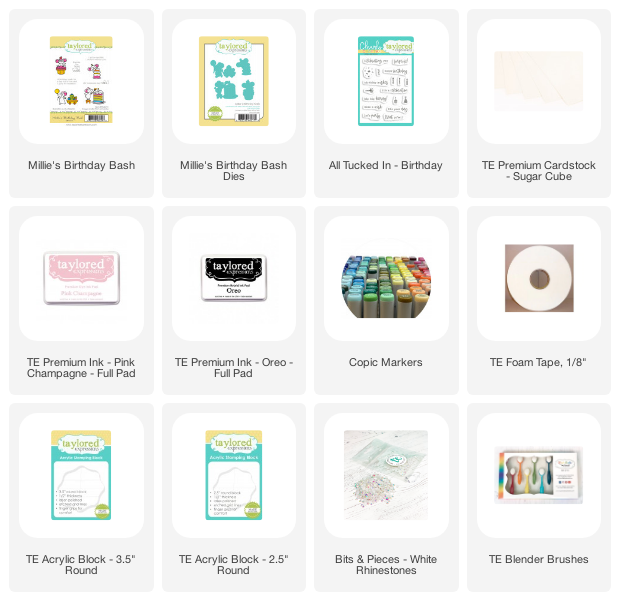 Promotion:
There is no birthday celebrations without some giveaway or promotion. So here is the promotion details for you.
Today through Sunday, September 13th you can also get our 12th Birthday Bundle for only $62. The 12th Birthday Bundle includes:
Bokeh Layering Stencil
Building Blocks – Happy Additions
On the Block – Happy
On the Block – Happy Shadow
On Repeat – Birthday
On Repeat Die
In addition, all orders receive a free I (heart) TE collector enamel pin!
Check out Taylored Expressions Blog for more details and inspirations from Taylor and other designers. All the new products of the birthday release are now available for purchase at TE store.
Thank you for taking the time to visit my blog today. Hope you found some inspiration from my projects today. Have a wonderful day and until next time… take care.