Continuing with Taylored Expressions November Mini release, today I have something different to share. Keeping with the Gifts Giving theme, I have some lovely earrings to share. If you are not aware, Taylored Expressions has a series called Designer Dangles Dies. These are mixed media dies which can die cut faux leather, felt, cork, chipboard etc. The Designer Dangles dies are specially designed to make earrings. Yesterday, TE released three new Designer Dangles dies, earring card die, faux leather and designer felt. I have used these new products from the Designer Dangles series to make some earrings.
I am obsessed with the mustard yellow colour lately. So when I saw faux leather in that colour in the new release, it was happy days for me 🙂 I combined it with some older and new Designer Dangles faux leather pieces to make these earring. The new DD dies I used are DD Modern Mix & Match and DD Pinch Me dies in different combinations. You can also purchase the jewellery supplies from TE store. I will list all the supplies used to make these earring in the supply list towards the end of the post.
TE has also come out with Earring Card die to display the earrings. So easy to die cut, attach the earrings as well as stamp your mark on it. I kept it simple by just stamping my stamp on it. You could use any stamp image to stamp or even colour either the front or back of the earring card. The die also comes with a hook die to attach on top which will help display the entire earring panel. I haven't used on mine as my earring will go into the hessan bags I shared yesterday with the tags. Other designers have decorated the earring tags using stamps. If you head over to TE blog, you can see them.
Below are the individual photos of the earrings. Hope you enjoy.
Earring #1
Earring #2
Earrings #3
Earrings #4
Earrings #5
Supplies: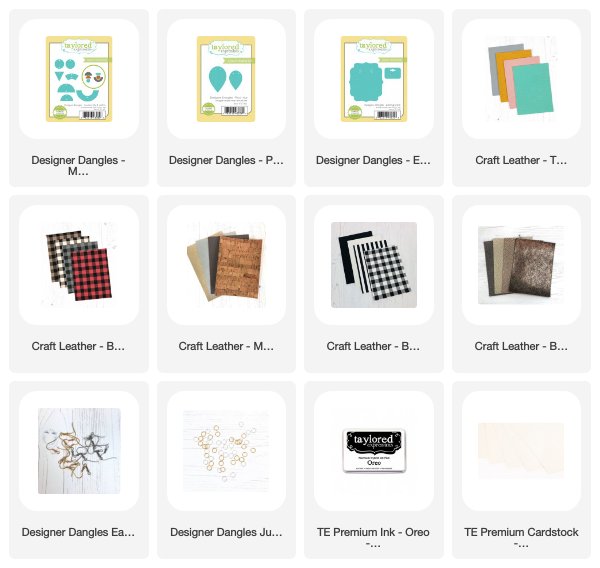 Check out Taylored Expressions blog for more details on Designer Dangles as well as inspirations from Taylor and other designers. These new dies and accessories are available at TE store for purchase now.
Thank you so much for taking the time to visit my blog today. Hope you enjoyed and got inspired. Have a lovely day!