Hope you had a great weekend! Mine was busy with Charlie being sick with vomiting and diarrhoea. A trip to the vet and a few medications has him on the road to recovery. No vomiting or diarrhoea since last night. Poor chap is eating very bland food which he does not like. I can see it on his face. Tomorrow after a followup with the vet, he can go back to normal diet I think. We feel so upset when Charlie gets sick. I tear up when I see him curled up, lethargic, vomiting…….. He is a baby to me. So happy he is looking and feeling better. Anyway no more of Charlie rant. I have a card to share with you today.
Hello and welcome. I am Gayatri, a papercrafter. Today I have a birthday card to share. I have used Taylored Expressions new Blender Brushes to do some ink blending on my card. In fact, all products used on this card is from Taylored Expressions. Here is the card.
I masked the edges of the Sugar Cube panel with masking tape and used the blender brushes to blend distress inks. I used Spun Sugar, Picked Raspberry and Ripe Persimmon distress inks. I love this colour combination especially Ripe Persimmon and Picked Raspberry together. So pretty!
I removed the mask to reveal the ink blended area. Then stamped the sentiment from Balloon Buddies stamp set on top of the inked area. I used Mini MISTI. I stamped the same sentiment on a scrap piece of Sugar Cube cardstock. Then used scissors to cut just the banner away sentiment from the whole stamped image. I adhered this over the stamped "away" sentiment on the original inked blended panel.
Then I stamped the elephant image from the Balloon Buddies stamp set on Sugar Cube cardstock and coloured the image using copic markers. Using the coordinating die, I die cut the image. I adhered the die cut on the bottom of the ink blended area. I adhered the entire panel on to Sugar Cube card base using foam adhesive. A few white Nuvo Crystal Drops to finish off the card.
Supplies: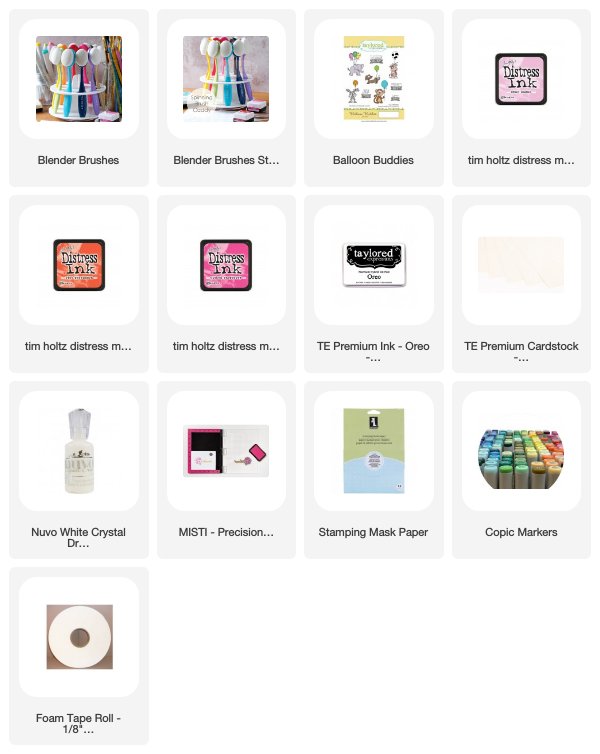 I am loving ink blending with these new TE Blender Brushes. I cannot put it down. It is so easy to just pick up the brush for each colour and blend. No need to worry if the brushes are contaminated and need to be cleaned. I feel the more I use them the better they get with picking up ink and blend. I am not bothered about cleaning them.
Hope you like my card today. Thank you so much for stopping by my blog today. Have a lovely rest of the day!