I have been seeing lots and lots of gatefold cards recently on social media and cardmaking world. I am not sure if it is a trend. After seeing a few of them, I decided to make one myself. So today's card share is a gatefold card wedding themed.
Hello and welcome to my blog. I am Gayatri. A quick update on my health before I proceed sharing my card. After couple of iron infusions, I am feeling much much better. I do not have any fatigue, I am able to get a lot of work done without feeling exhausted or dizzy, no shortness of breath, think clearly and feels like I have lots of energy. This is the first time I feel this way in a long time. I am not sure how long I have been iron deficient. Seriously is this how normal people feel? Feels like I missed out on feeling this way for a very long time. So I am so happy now.
Ok now coming back to today's project, I kinda got an idea to used Taylored Expressions Flip the Floral stamp set and die to make a Gatefold card. I combined this set with The Inside Scoop Wedding stamp set and To Have & To Hold die. All these are April release products. Here is the card.
I trimmed a Sugar Cube panel in half horizontally, stamped the image from Flip the Floral stamp set on the top and bottom of the panel using versmark, then rose gold embossed the images using TE Rose Gold detailed embossing powder. Then using the coordinating die, I die cut the images. Since this die is a cutting edge die, the images still remain on the card panel.
Using the scoring board, I score at two and quarter of an inch on either side of the stamped images to make the gate fold card. When folded the images overlap slightly.
On the inside I adhered the pattern paper from TE Playful Patterns Bold pack with two strips of Oreo cardstock on either side for contrast. I stamped the sentiment from The Inside Scoop Wedding on the top centre of the pattern paper. On the gatefold panels on the front, I added a strip of another pattern paper from the same pack to keep with the colour theme.
For the wrap to keep the gatefold in place, I used TE vellum paper. I also die cut the To Have & To Hold die using TE heavy weight vellum cardstock and adhered behind the front of the wrap as shown. The sentiment from Flip the Floral stamp set is stamped in black on a strip of Sugar Cube cardstock and foam mounted on the front of the wrap. That is it.
Supplies: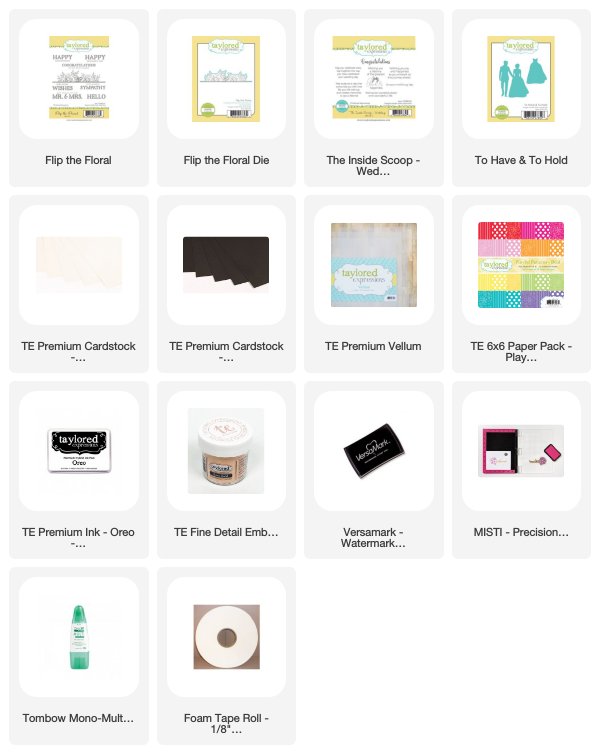 Hope you enjoyed my project for today. I will see you tomorrow with another project. Until then have a lovely day!