Hello Monday! When this post goes live, I am on a plane. I am on my way to India taking my mother back home. She spent six months with me here in Australia and now time has come to take her back home. It was nice to have her with me. Honestly, she did not have a good time. She felt very home sick and bored. It was a culture shock for her and she felt very isolated although she had me and my family. Life is not the same as in India here. Everything is different and not what she is used to. Adjusting to a different life at her age is hard I guess. She is happy to go back home to my brother where she is more comfortable and used to. I will be back home in Australia on Saturday.
Anyway, I have a set of two cards today using Taylored Expressions products. I used pastel colours to make these cards. Pastel colours are no my thing. Bright colours are my gig. This year, I have decided to use more pastel colours and move outside my comfort zone. So without any delay, here is card #1
The stamp set I used is called Ocean of Fun stamp and die combo. This is cute petite stamp set and comes with dies for the images in the set. Love love this set and its sentiments. Here is the picture of the stamp and set combo.
I stamped the images from the stamp set few times using Oreo hybrid ink and coloured them using copic markers in pastel colour. I chose 00 and 01/02 of all colours of rainbow to colour the images. I love the rainbow coloured star fish. How cute are they? Then I used the dies from the set to die cut all the coloured images.
For the background, I used the Set the Scene:Waves stencil to blend distress oxide inks in pastel colours to get the fantasy waves background. I colours I used are Tumbled Glass, Spun Sugar and Milled Lavender distress oxide inks. I trimmed the background to 4.25 by 4.25 inch.
Then I die cut three pieces using Mini Color Block cutting plate. Two using white cardstock and one using Sea Salt TE cardstock. I stacked glued them with the Sea Salt cardstock piece on top. I adhered this on top of the background panel I created.
Then stamped the sentiment from the stamp set using Oreo hybrid ink and adhered the coloured die cut sea animals randomly using foam adhesives.
I adhered this entire panel to Sea Salt card base. To add a little something more, I used Sakura glitter pen to add shimmer to all the dots on the images, scales and fins of the fishes and lined the top and bottom of the background panel on the card base. The shimmer is subtle but beautiful under the light. Then I used glossy accents to add some bubbles all over the card. Here are some closeups of the card.
After making this card, I had a few more of the coloured die cuts left. So I make another card. The second card is very similar to the first one except for the layout of the card. Here is card #2
I used the same stencil with Shaded Lilac, Spun Sugar and Tumbled Glass distress oxide inks for the background. The trimmed the panel, stamped another sentiment using Oreo hyrid ink and adhered to the Sea Salt card base. Then adhered the left over coloured die cuts around sentiment using foam adhesive for dimension.
Similar to the previous card, I added shimmer to the dots, scales, fin and also a thin line on the sides of the panel. Again a few drops of glossy accents as bubbles. Simple to make but the colours make the card. Here are some closeups of the card.
I am in love with these two card. I am really loving the pastel colours on these cute sea creatures and background. Very different from my normal brights. Hope you like them too. All supplies used to make these cards are listed below.
Supplies: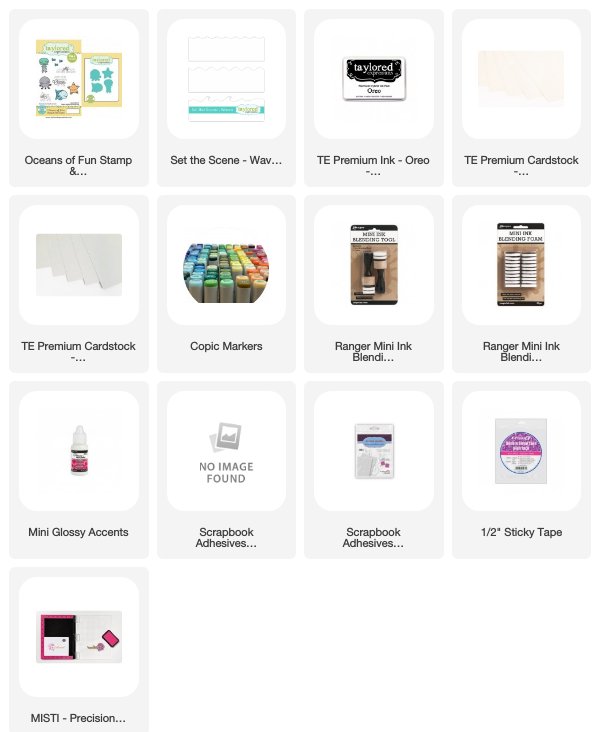 Thank you for taking the time to visit my blog today.