Wondering what to do for my third card design for my Christmas cards this year, I decided to do some heat embossing and ink smooshing to get dramatic background. The stamp set I decided to use is Simon's Outline Snowflakes background stamp. I love love this background stamp. So pretty and versatile. So I have a set of four cards to share today.
Hello and welcome back to my blog. Hope you are having a wonderful week. Summer has truly hit Perth. It is a very hot day and a hot night to follow. I am down with migraine once again. Heat and bright sunlight is a trigger for me. Hope to got to bed early today.  Anyway, I made these cards last night so I could share with you today.
WARNING: This post is photo heavy. So make yourself a cuppa and enjoy.
Card #1
All the cards have similar background. I embossed the Outline Snowflakes from Simon on watercolour cardstock using diamond embossing powder. This is a clear embossing powder with glitter in it. So the snowflakes are glittery when embossed. I did four panels of it.
Then I smooshed the panels on Victorian Velvet, Worn Lipstick and Seedless Preserves distress inks. I did one ink smooshing at a time, drying between each ink layer. This gave me random gorgeous inked background. Each panel looked different. Then I used copic markers to add shading and depth to each of the snowflakes on the panel making them stand out. Since copics are transparent, the texture of ink on the background will still show through.
I trimmed the panel to 4″x5.25″ in size, then sponged Seedless Preserve distress ink on the edges give the panel a nice depth of colours. Following that I spattered white gesso and Altenew Irridescent spray to give the background panel falling snowflakes kind of feel. I left the panels to dry while I worked on the sentiments.
For card #1 and #3, I stamped the sentiment on white strips of cardstock using Seedless Preserve distress oxide inks. For card #2 and #4, I white heat embossed the sentiment on black strip of cardstock. The sentiments are from Retro Christmas stamp set also from Simon. I added some gold and silver twines behind the sentiment strips and embellished with white Nuvo Crystal Drops.
Here are the rest of the cards and closeups.
Card #2
Card #3
Card #4
So what do you think? I love love the background. So I kept the rest of the card simple. I made two of each to make a set of eight. I think I will make a few more once my migraine gets better and I have more time. Hope you like these. If you are inspired and make a card or set of cards inspired by these, then please share and tag me on social media. I love see yours. 🙂
All supplies used to make these cards are listed below.
Supplies: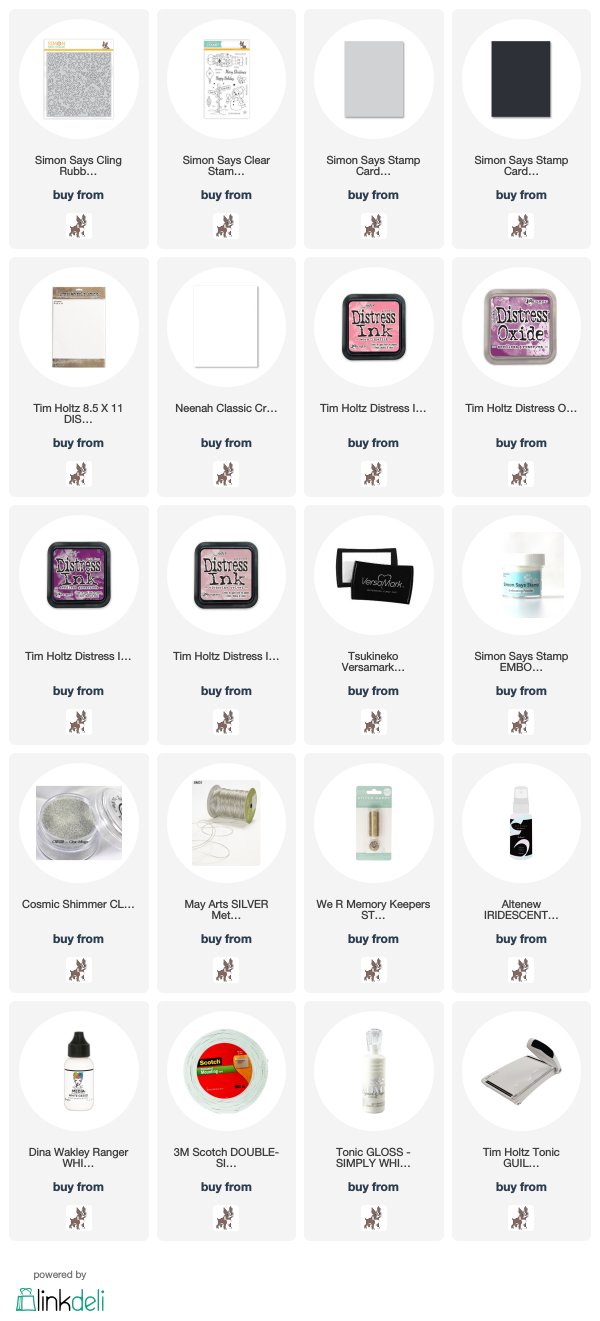 Thank you for taking the time to visit my blog today.