Hello everyone,
Welcome to a Mega Party celebrating Taylored Expressions 10th Birthday party.
I remember my first order with Taylored Expressions. I bought the clouds impression plate. It was in 2011. I still have the plate. Loved it so much that I bought a few more impression plates which I still have with me. Impression plates are now discontinued. I had just moved from rubber stamp to clear stamps. So I did not buy stamp sets but I loved the dies. So I bought the banner die and bow die. Then as a Curtain Call Challenge design team member, I used one of TE's rubber stamp for the challenge. It was Hydrangea Bouquet stamp set. Loved colouring the image. Got hooked to TE rubber stamps too. Although I am still partial to TE dies, I love all of TE products. TE cardstocks are awesome. Great colours and weight. If you already don't know, love their matching inks and liquid watercolors. Then the stencils are great new recent addition which I really love. Products are important but what is more important for me is customer service and people behind the company. I love TE as family based company. Taylor and her team behind the scene are so nice, very approachable, organised and understanding. It is a pleasure and privilege to work with Taylor and her team. Thank you so much for having me on your team. Four years working for TE. It gives me great pleasure to participate in Taylored Expressions 10th Birthday celebration.
Today's celebrations is huge! We have about 47 present and past TE designers participating in the blog hop. You can find all the details and link to all the designers at TE blog. As part of the celebration, TE had a mini release yesterday. Just saying if you are not aware of already. here is the link to the new products at TE store.
For today's celebrations I have a very colourful shiny rainbow card to share with you. I used two new stamp sets here – Yippee Critters and Celebrate Big stamp sets.
Well, my DT package is yet to arrive to me. For some reason, post is delayed. This is the first time such a thing has happened. I have worked with digital images of the stamp sets kindly sent by Taylor. So I came up with a clean and simple card with pop of not just one or two colours but rainbow of colours. 🙂 Who doesn't like rainbow colours!
 Since I had digital images to work with, I printed them out using my home laser printer and made this card. Like I said I printed the balloons using my laser printer at home and hence I foiled the printed image. I used rainbow foil from deco foil to foil my balloons. This is how you can foil the balloons. They are images from Celebrate Big stamp set. Stamp the balloon images using TE Oreo hybrid ink using MISTI to get even crisp image on scrap piece of cardstock. Stamp multiple images to save time. Then if you have a laser printer at home, copy the stamped image on Sugar Cube cardstock. The images now can be foiled using your favourite foils. If you do not have laser printer at home, you can get them done at your local stationery store of you choice.
I clustered the balloons and glued them. The white panel with critter, I die cut using Frayed Edge Stacklet die. I used the largest die from the set. I coloured the critter with copic markers. On the card front which is a Sugar Cube card base, I adhered the diagonal striped rainbow pattern paper from Rainbow Brights pattern paper pack. Then I adhered the critter panel over it using foam adhesives for dimension. Following which I adhered the cluster of balloons on the top of the string the critter is holding using foam adhesive as well. Since the balloon has the sentiment, I didn't have to add another sentiment. To finish off the card, I added sequins from Rainbow Bright sequins collection.
Here are some closeups of the card.
I have listed all the supplies used the make this card towards the end of the post.
At the heart of Taylored Expressions is a mission to share joy through the gift of handmade cards. As part of their 10th birthday TE is continuing that mission with the launch of a special Share Joy campaign focused on providing birthday cards to those in nursing homes and assisted-living facilities across the U.S.To make as deep an impact as possible TE is inviting card makers everywhere to join the campaign. Will you join us? Find out how to participate by viewing their Share Joy page for details.
No birthday release is without a giveaway, right?  So here are the details of gifts on your birthday release order.
What are you waiting for? Check out TE store for all the new release products and have a wonderful shopping experience. Also check out TE blog for all the details on Share Joy Campaign and also get inspired by 40 great designer projects.
Supplies: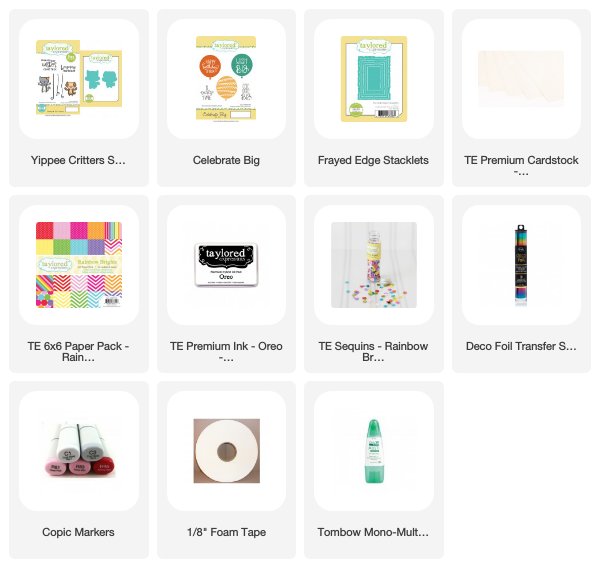 Have a wonderful day!