Hello friends,
I am so excited to share with you new product introduced at Taylored Expressions Store. Its 100% Wool Designer GLITTER Felts.
Yes!!! glitter felt in a whole lot of colours. They are high quality, gorgeous, glittery, 100% wool felt and comes two in a pack. The glitter will not fall or rub off. The quality of these felt are superb. I am in LOVE with these. The Mixed Media dies at Taylored Expressions store cuts these felt like butter without fibre strands peeling on the edges.
I used Mixed Media dies Rolled in Flowers 1 and 2 to die cut the glitter felts and Sack It Unicorn die to make a Unicorn Monogram frame decor.
I used Strawberry Wafers, Berry Patch, Herb Garden and Rose All Day glitter felt on my decor here. So each pack comes with two shades of glitter felt in each colour.I used one shade of glitter felt from each pack. You have plenty to play with or in my case to hoard lol!  Seriously! I will be hoarding these in my stash and looking at them every day. Just looking at all the glitter makes me happy 🙂 Since the Mixed Media dies cut the felt beautifully, it is easier to die cut and roll them into flowers. The leaves are die cut using Bloomin Accessories dies. I wanted to make a decor piece for my daughter's room. So I used the alphabet A paper mache (as her name is Aditi) and decorated it using the Sack It Unicorn die and the glitter felt rolled flowers and leaves. I added glue to the centre of the flowers and add the Vanilla Creme shaker filling beads. I adhered this Monogram A on a shadow box frame with TE Lavendar Glaze cardstock on the background. This frame sits on her desk in her room. She absolutely love all the glitter flowers and unicorn of course 🙂 Here are some closeups of the frame decor.
These glitter felts are so gorgeous, I will hoard them instead of using them. Lol! As if I haven't already told you this. lol! These are going to fly off the shelf soon. Rush! if you haven't placed the order already. All the supplies used to make this project are listed below.
Supplies: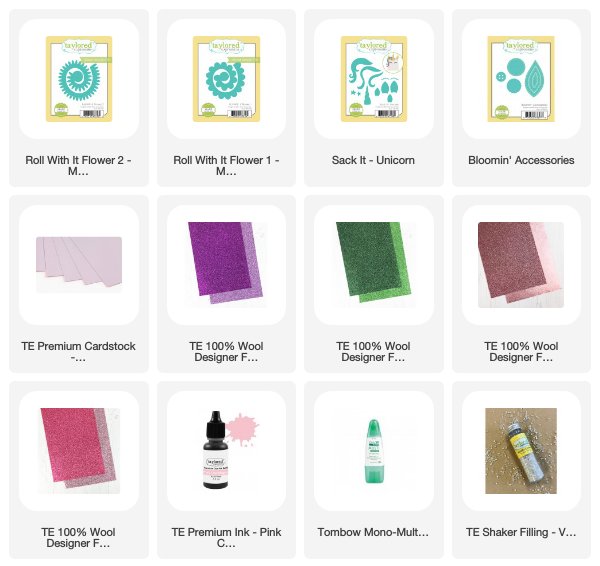 Thank you so much for stopping by my blog today.
Have a wonderful weekend!